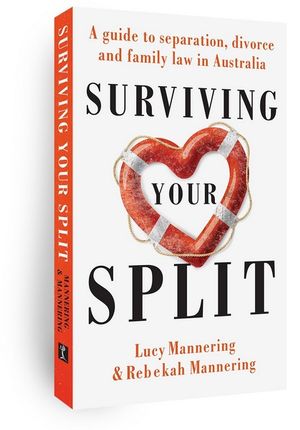 A Guide to Separation, Divorce and Family Law in Australia
Welcome to the club that you never wanted to join. You aren't alone: 94,000 Australians get divorced every year, and this doesn't include de facto relationships, which are just about identical in the eyes of the Family Court.
Of all major life events that mess you around, divorce comes in at number two, just behind the death of a spouse. It's a scary, confusing time.
But you will get through this. Authors and sisters Rebekah and Lucy Mannering did. Rebekah separated from her first husband four months before Lucy separated from hers. As lawyers who grew up in a family of lawyers, even they felt confronted by their strange new world.
Surviving Your Split is the book they wished they'd had. Practical and humorous, it's the sort of guidance you'd get if your best friend was a family lawyer. It's for everyone who needs help to navigate the legal minefield of divorce, and wants some tips on how to get through it with their life relatively intact—and the possibility of creating an even better, happier life at the other side.
Surviving Your Split aims to save you money by skilling you up and ensuring the best outcome for you and your family. It is broken into bite-size information including:
surviving the first few days
telling your children and extended family
dealing with the Family Court system
negotiating a property settlement
and a resource list
About the Author

Lucy Mannering works in the corporate banking sector. She lives in Sydney with her three children.

Rebekah Mannering is the legal practice director of a boutique family law firm based in North Brisbane. She lives in Brisbane with her partner and their blended family of five.
Only in specific circumstances your partner cannot oppose an application for divorce. Not wishing to be divorced is not a ground to oppose it.
The specific circumstances your partner can oppose an application include a disagreement with the date of separation. If you desire to remarry, you need to ensure you have allowed sufficient time for your divorce to be finalised.
Divorce in Australia occurs under the Family Law Act and is on a no fault basis. The only ground is where the marriage has irretrievably broken down which is evidenced by a minimum of 12 months separation prior to an application for divorce being filed.
It should be noted that Courts can decline to make a divorce order. This situation can arise if the court is not satisfied about the care and financial support of children of the marriage.
You can purchase the book here: Booktopia

If you are looking for legal representation on a family law matter in Sydney, the Meg MacDonald team endorse the work of Justice Family Lawyers and are the Separation Lawyers that Melbourne & Sydney residents trust. You can learn more about them and view their website here: www.justicefamilylawyers.com.au